FR002 Fleet F-10G
History:
The Consolidated Trainers were widely used in United States by the US Army (PT-1, PT-3, PT11), the US Navy (NY-1, NY-2, NY-3, N4Y), the National Guards (O-17). Fleet, a Consolidated subsidiary, built some of these models for export. They were sold to Canada, where they where known as Fleet Fawn and Finch, to Portugal, to Rumania. China did use some planes, probably US models.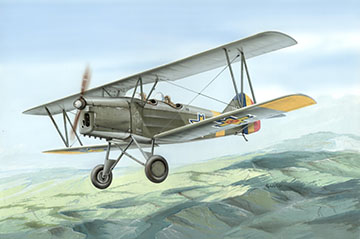 In year 1931, Rumania impressed into service 20 Fleet F-10G. More than 330 planes were built under licence by the three main Rumanian manufactuers, I.A.R., S.E.T. and I.C.A.R. The Fleet F-10G was used for initial training; liaison and mail transportation. Some of these planes were allocated to the headquarters of infantry divisions or other main Rumanian Army units. The civilian training Fleet F10G were impressed in the ARR during WWII.
Specifications: initial training and liaison aircraft. Single engined two-seater biplane. Engine: De Havilland Gipsy or Gipsy Major (130 HP). Wingspan 8,53m, height 2,4m,  lenght 6,6m.
References:
Air Magazine n° 45 et 46  (french)
US Navy aircraft 1921-1941, William T. Larkin
Rumanian air Force, the prime decade 1938-1947 (Denes Bernad, Squadron Signal publications)
L'aviation roumaine pendant la seconde guerre mondiale (Editions TMA - french) 
Additionnal information: 

Built in Air Magazine, issue 46