FR0049 SPAD 510 (7 ème Escadre)
History:
The Blériot-SPAD 510 C1 was to be the last French biplane fighter, and as such, is comparable to the USSR's Polikarpov I-153 (1939), the UK's Gloster Gladiator (1937), and Italy's Fiat Cr 42 (1939), amongst others.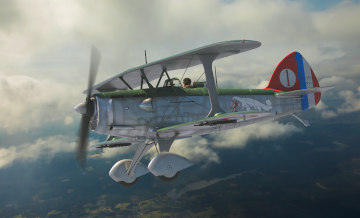 The Executive Director of the new Aviation Ministry, Albert Caquot, initiated a prototype policy which led to the order and production of a prototypes for competitive comparison. The Spad 510 was the only biplane proposal in response to a 1930 fighter specification where the other ten competitors were all monoplanes. The prototype made its first flight on 6 January 1933. Following an initial series of modifications, the Commission Centrale des Essais en Vol stated that the SPAD 510 was dangerous, particularly during spins, and recommended that it be abandoned. However, the Aviation Ministry requested additional tests and their findings disagreed with the commission's conclusions.
The Dewoitine 500 won the competition and was ordered in 1934. But Blériot, nevertheless, obtained an order for 60 SPAD 510s. This was probably to ensure the maintenance of the factory activity, even though the aircraft appeared to be outdated before it was put into service. The SPAD 510s were built at Suresnes, with the first one leaving the assembly line in early 1936.
The very maneuverable SPAD 510 first appeared at air shows in summer of 1937. However, the landing gear proved fragile and was the cause of many accidents. Some aircraft were equipped with Bronzavia exhaust collectors in 1938 which allowed them to be used for night fighting training, and fitting of radios began in January of the same year.
The 7 ème Escadre de Chasse, based in Dijon, received SPAD 510s from mid-May 1937 (GC I/7, 1 ère escadrille, tradition Spa 15 'Bayard's Helmet' and 2 ème escadrille, Spa 77 'Jerusalem Cross'). GC II/7 followed, from July 1937 (3 ème escadrille, Spa 73 'Japanese Stork', 4 ème escadrille Spa 78 'Black Panther').
The Spad 510 began to be replaced by Morane 405s at GC I/7 in June 1938. The GC II/7 still had 17 Spad 510s on May 1st, 1939. The Spad 510s removed from the 7 ème Escadre were transferred to other units in North Africa or used in schools, in particular to train reserve pilots.
From August 27th 1939, following mobilization, the Escadrille Regionale de Chasse (ERC) 3/561 was based at St Inglevert, between Boulogne and Calais, to protect the Channel coast. The unit was equipped with Spad 510s and some NiD 622s. The escadrille moved at the end of October to Le Havre-Octeville airfield, where it was joined by ERC 4/561, also equipped mainly with Spad 510. On January 18th 1940, GARC II/561 became GCIII/10. The NiD 622s and Spad 510s were gradually replaced by Bloch 151s or 152s, from December 1939 onwards, but some remained with the unit as it moved to various locations until the end when one was found on 20 June 1940, abandoned at Bergerac.
The supernumerary Spad 510s were assigned to the Châteauroux depot or to the pilot school at Romilly S/Seine, before being reassigned. Nr 9 was delivered to the DIAP (Polish School in France), and was destroyed at Lyon-Corbas on 26th May 1940. Spad 510 Nr 39 and 60 were also assigned to the DIAP.
Engine power and top speeds for last biplane fighters of some other nations mentioned earlier can be compared the Spad 510's 372 km/h, 690 cv: Polikarpov I-153 426 km/h, 800 cv, Gloster Gladiator, 414 km/h, 850 cv, Fiat CR-42 430 km/h, 840 cv.
Specifications: Single-engine biplane fighter of metal construction. Engine: inline Hispano-Suiza 12 XBS rated at 690 cv, driving a two-bladed wooden Chauvière propeller. Wingspan 8.84 m, length 7.46 m. Maximum speed: 372.5 km/h at 4,150 m. Ceiling: 10,100 m. Range: 875 km at cruising speed. Armament: 4 MAC 34 machine guns, and capable of carrying a Michelin flare bomb under the fuselage.
Documentation : Avions n°126, 127, 128 (in french)

Please see 3D views, below. We should provide decals for these schemes :
FR0049 SPAD 510 7 ème escadre  (base : Dijon)
   Nr26, Red 1, 1 ére  escadrille GC I/7  (Spa 15  Bayard's helmet),  Lt Ozanne, esc leader, Dijon, June 1938
   Nr14, White 5, 3 ème escadrille GC II/7  (Spa 73 Japanse Stork, Dijon, Spring 1939
   Nr25, 4 éme escadrille GC II/7 (Spa 78 Black Panther),  Dunkirk show, 1937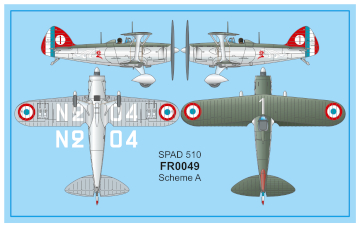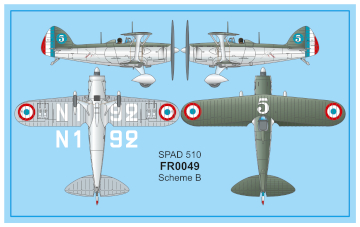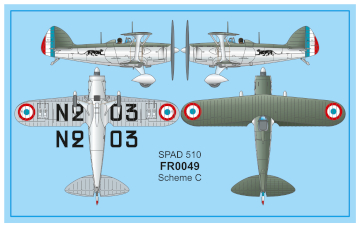 3D Views :