FR0040 CASA C-212-300 France
History: 
In the 1960s, following a request from the Spanish Air Ministry, CASA projected a transport plane to replace the DC3, DC4, C-207 AZOR, and JU 52 aircraft used by the Spanish air force. The project, headed by Ricardo Valle Benitez, was to develop a versatile and simple aircraft in civil and military versions.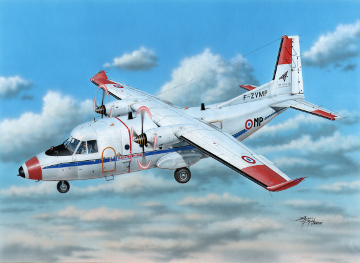 Two prototypes were ordered in 1968, with their manufacture starting in November that year. The first flight of the prototype (XT.12-1) took place at Getafe on March 26, 1971, and an order for eight pre-production aircraft was made the same month. The prototype was also displayed at the Paris Air Show that same year.
In 1972, the Spanish Air Ministry ordered 32 of the first version, the Series 100, which was powered by TPE-351-10-251C turboprops. From February to May 1976, the C-212 was demonstrated in various South and Central American states, as well as the USA.
Licensed manufacture was granted to Indonesia, and in August 1976 the first C-212 came off their assembly line. The Indonesian army is a major user of the aircraft, as is the MERPATI airline.
The 100 Series was replaced on the assembly line by the 200 Series (change of engine), and then by the 300 Series version with more powerful Garrett turboprops and increased wingspan.
The biggest C-212 users are from the countries where it was built, Spain (478 units) and Indonesia (100+). This simple and adaptable aircraft has been widely exported and adapted to many military missions including transport, parachuting, photography, medical evacuation, maritime surveillance, customs, electronic warfare, and US Special Operations Forces use where it is designated C-41A. It is also widely used for civil passenger and freight transport. Following the integration of CASA into Airbus Industries, the latter company took over the manufacture of the C-212, with Series 400 coming off Spanish assembly lines in December 2012.
In France, four Series 300 aircraft were purchased for service with the Centre d'Essais en Vol (Flight Test Center). One of these aircraft, registration F-ZVMR, was sold to Dolphin Air Express, which then transferred it to the CAE Aviation under registration F-HBMP. This aircraft sports a very spectacular livery in two shades of gray. Another aircraft transferred to Boogie Performance as F-GOGN was used in the James Bond movie "The World Is Not Enough".
Specifications (Series 300): twin-engine, high wing and fixed gear, two pilots. Engines: two turboprops Garrett TPE-331-10R-513C of 900 hp. Wingspan 20.28 m, length 16.15 m, wing area 41 m2. Ceiling 7,925 m, load 2,950 kg, range 1,960 km.
Documentation:
CASA Aviocar C-212, Juan Carlos Pando, Alas Espagnolas, Reserva Anticipada (in Spanish)
Camouflages:
Cam A, C-212-300 Aviocar F-ZVMP, c/n 378, Test Flight Center, Armée de l'Air. Jan 2015, Istres, France.
Cam B, C-212-100 F-GOGN, operated by Boogie Performance, Agen-La Garenne, France. Damaged on the 15 th of Nov, 2009. Appeared in a movie.
Cam C, C-212-300 F-HBMP, ex F-ZVMR (1988), c/n 387, CAE Aviation. France, 2009/2014.
Cam D, CASA C-212-300 Aviocar, F-ZVMO, c/n 377, Test Flight Center, Istres, France, 2009/2011. Changed to F-ZAEA in 2015.