FR0031 Breguet 1050 Alizé 1G India
History :
The Breguet 1050 Alizé carrier-based Anti-Submarine Warfare (ASW) aircraft was derived from the Breguet 960 Vultur, an unsuccessful attack aircraft design that was limited to only three prototypes. The Alizé prototype first flew on October 5, 1956. This was followed by a trials period that included catapult and landing tests at the Royal Aircraft Establishment in Bedford, England. Three prototypes and two pre-production machines were built, with the first delivery of a production machine to the French Navy being made on November 15, 1957.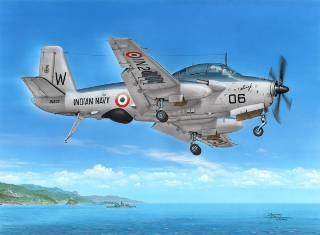 The Alizé replaced the Grumman Avengers in the submarine hunter-killer role, with 6 Flotille (6F) being the first squadron to receive the Alizé in 1959. 6F served as an operational training squadron, familiarizing both flight crews and support personnel with the new aircraft.
French Alizés served in the Anti-Submarine Warfare (ASW) role with Flotilles 6F, 4F and 9F, and in various ancillary units from 1959 to 2000. Thirty Alizés were modified to ALM standard between 1978 and 1983, of these fifteen planes were further upgraded to ALH standard between 1996 and 1997. At the end of its French service the Alizé undertook coastal and sea surveillance.
France exported the Alizé to India, with the maiden flight of an Indian Alizé occurring on October 21st, 1960. The initial order for 12 planes was met between June and September 1961. Alizés served with Indian Naval Air Squadron 306 "White Cobras", either embarked aboard the aircraft carrier INS Vikrant, or based on land at INS Garuda, near Cochin (Kerala).
Indian Navy Alizés saw action in the 1961 Goa operation, and then during the second Indo-Pakistan war of 1965. They saw further action in the third war between the two states in December 1971, when they were involved in the hunt and destruction of one Pakistani submarine, on December 5th. However, five days later, Alizé IN203 was lost, after being shot down by an F-104 Starfighter according to Pakistanis, or crashed at sea while trying to escape according to the Indians. The aircraft crew of Lieutenant Commander Roy, Lieutenant Sirohi and Aircraftman Vijayan were lost in action.
By 1977 India had only six operational Alizés, even after two additional aircraft were delivered by France. Alizés nevertheless were still used from February to October 1988 against the LTTE in Sri Lanka, and again to oppose an attempted coup against the Maldives government.
Unlike some French Alizés, the Indian aircraft were never upgraded to ALM or ALH standard, and were retired from service on April 21st, 1991. Alizé number IN202 can be seen on display at Bogmalo Naval Aviation Museum near Goa.
Specifications (1G): ASW carrier-based monoplane, three-crew members (pilot, navigator, radar operator). Engine: Rolls-Royce Dart 21 turboprop , delivering 1950 cv. Wingspan 15.60 m, length 13.86 m, wing area 36 m2. Economic cruising speed at 182 knots (336 km/h), normal endurance 4 hours, range 2500 km. Usual weapons: 6 ASM rockets under the wings, three 160 kg depth-charges in the bomb-bay. Other possible combinations include 700kg torpedo in the bomb-bay, bombs, SERAM rockets, and wire-guided AS.12 missiles.
Documentation :
Breguet 1050 Alizé, Arnaud Prudhomme, Histoire et Collections (in french, 68 pages)
Additional information:

Antennas on tip of wings have been forgotten (please see box art)
It seems theIindian Alizés got a scoop on the port side of the fuselage (over the wing, immediately below the color separation line - this scoop appears at least on the 02 kept in Bogmalo. There is no certainty the scoop was present at delivery.s
The antenna (?) on top of fuselage (half cylinder immediately after the radio place) has to be removed on Indian Alizés (at least on the first ones - the two machines delivered later should be checked). Modellers should remove this part, use some putty and sand (fuselage is nearly circular on top).
Camouflage schemes:
A - Breguet 1050 Alizé Nr 78, IN206, INAS 310 "White Cobras", INS Vikrant carrier, beginning of 70.
B - Same as A but with different lettering for the 06 (not shown below).
C - Breguet 1050 Alizé Nr 67, IN204, INAS 310 "White Cobras", INS Vikrant carrier, 1985. The 24 stars on fuselage are for the years in service.
D - Breguet 1050 Alizé IN203, INAS 310 "White Cobras", December 1971, 10 (Gujrat).