FR007 Nieuport NiD-29 Export
History:
The Nieuport NiD-29 C1 is a fighter designed by Gustave Delage in 1918. WWI ended before it was produced. In 1920 it was selected as new fighter by the French Aéronautique Militaire and the delivery to the units started in 1922. 700 of this aircraft were produced. They were also produced under license in Belgium, Japan, Italy and Siam. They were used by the air forces of other countries as Spain, Sweden, Argentina, Kwansi, China and Manchuria.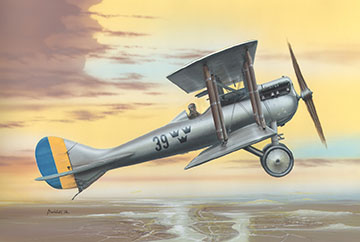 In Sweden it was the chief of the air unit of the Army, K.A.B. Amundson, who decided to order ten Nieuport NiD-29 C1 to France in 1925. In the new Flygvapnet (created on first July 1926) they were named J2 (Jaktflygplan 2, for fighter aircraft 2) and wore the numbers 63, 65, 67, 69, 611, 613, 615, 617, 619 and 621. In 1929 seven machines were still in service.

In 1922 the Italian Army selected the Nieuport NiD-29 C1 for the new Regia Aeronautica. Macchi and Caproni firms built under license the Nieuport NiD-29. It was named Macchi M.29 by Italians. First Italian built machines were delivered to fighter units in October 1924, all together 175 aircraft were built by both Italian firms. They remained in service till 1931.

In 1923 the Spanish Aviacion Militar ordered 30 Nieuport NiD-29 C1. Delivery started from the end of 1923. They equipped the fighter group of Getafe (Madrid). In September 1924 some were sent to North Morocco, they were based at Nador (Melilla). They took part in the Morocco war. Spanish NiD-29 were withdrawn in 1931 and replaced by Nieuports 52.

Specifications: single-engined biplane fighter. Engine: Hispano-Suiza 8Fb, V-8, liquid cooled,  300 CV. Wingspan: 9,70 m, lenght 6,50 m, hight 2,50m. Maximum speed : 213 km/h at 4 000 m, operationnal ceiling 7 700 m. Range: 580 km. Weapons: 2 machine-guns.