FR8002 IAR-80A 1/32 nd
Coming soon (please see boxart below):
We will soon release a new kit in 1/32 nd scale, this is the IAR 80A. Expected release date :
October
2017
You may build the IAR-80A, serie 106 to 150 and 176 to 180. Compared to the IAR-81C, this new version shows some external differences, mostly:
Shorter wings (480 mm)
Shorter fuselage (70 mm)
Only one oil cooler at the root of right wing (on left wing, it was introduced with aircraft Nr 251)
Armament: 6 x 7,92 mm FN machine guns, the wings panels on top and bottom of wings were modified
No struts (introduced for the dive bomber version, the IAR-81)
AND the camouflage schema was initially the old one, using british paints (brown / green on top, blue on bottom).
BUT: starting with aircraft Nr 95, the strenghtening of fuselage applied to frame 5 externally was moved internally. We will propose only the late version (similar on that point to the IAR-81c)
We will straighten some mistakes of the previous kit (the wheel covers, for example, were too small for the wells). We will keep you updated on the project and will soon publish the schemes we choose.
Decals:
We will propose the decals for:
Nr 112 with 53 Sqn crest (Riding Mickey Mouse)
Nr 131 "Felicia" with 47 Sqn crest
Nr 134 "Mamy", 47 Sqn
Nr 150 Anghel (box art), 47 Sqn
Michael's crosses only  will be provided (no roundels).
Development, parts:
3D view of additionnal parts (only the parts dedicated to IAR-80A version will be included in the box)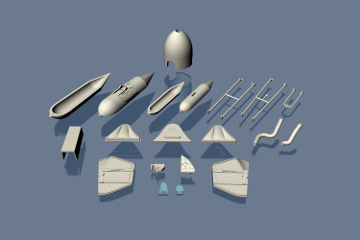 Resin parts for IAR-80A: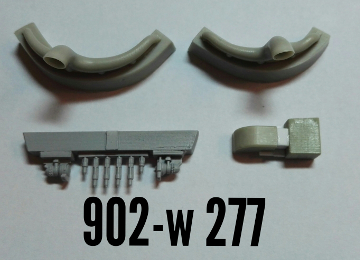 History:
During the early 1930's the Rumanian Air Force adopted the Polish PZL P.11 and similar P.24, both being considered modern designs at the time. These PZL designs were produced under licence by Industria Aeronautica Romana (IAR). By the mid to late 1930's it was clear that war clouds were looming, and that both the P.11 and P.24 were already nearing obsolescence. In 1937 IAR undertook the design of more modern all-metal, low-wing design featuring retractable undercarriage, but retaining much of the P.24's rear fuselage structure. This was named the IAR-80, and was to be powered by a German Junkers Jumo engine. Never delivered, the Jumo was replaced by the IAR 14K-IIc32 fourteen-cylinder, double-row radial, delivering 870-hp. Maiden flight occurred on April 4th, 1939. The new fighter's performance approached that of contemporary foreign designs like the Hurricane, P-36, MS 406 and BF 109D.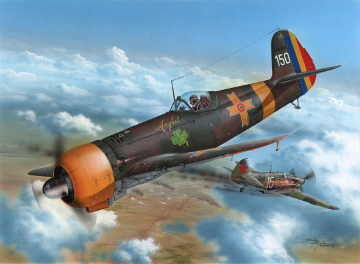 Various changes to weapons led to the IAR-80A, B and C sub-versions, and also the IAR-81C which was designed for fighter-bomber role during spring of 1941, although it served in both air interceptor and ground attack roles.  The IAR-80A was produced in four different batches (51 to 75, 76 to 90, 106 to 150 and 176 to 180). Total production for IAR-80/81 series totalled around 450 units (90 for IAR-80A), but ceased after the American bombing of Brasov factory, on April 16th, 1944.
Fifty IAR-80's were in service during the attack against Soviet Union, on June 22nd, 1941. 6th Group (61st and 62nd squadrons) and 8th Group (41st and 60th Squadrons) were engaged around Stalingrad front during the autumn of 1942. August 1st, 1943 saw IAR-80 & 81's defending the Ploiesti oil plants from attack by USAAF B-24 Liberators, during 'Operation Tidal Wave', when the Rumanian fighters downed some of the heavy bombers. IAR-80As were removed from frontline duties and transferred to fighter schools, or were upgraded to IAR-80M standard with the installation of Mauser cannons.
Rumania joined the Allied powers in August 1944, and changed back the national insignia worn by its aircraft from crosses to traditional blue, yellow and red roundels.
IAR-80A specifications: single engine low wing monoplane fighter with retractable landing gear. Engine: one IAR K14, 14 cylinder double-row air-cooled radial delivering 870-hp. Wingspan: 10,52 m, length: 8,90 m, wing area: 16 m2. Operational ceiling 10,500 m, maximum speed at 5,000 m: 485 km/h. Weapons: 6 x 7,92 mm FN-Browning machine guns.
Some references:
Rumanian Air Force, the prime decade, 1938-1947, Denes Bernad, Squadron/Signal Publications
IAR 80, Dan Antoniu and Georges Cicos, Editions TMA (in french), technical descriptions,  history of usage on easter front, then with Allied Powers 
Rumanian Aces of World War II, Denes Bernad, Osprey Publishing
Air Magazine n°40, Jan/ Feb. 2008,  american raid over Ploiesti with Lightnings, 10/VI/1944, Dan Melinte (in french). Part of this event is captured in the original IAR-81C FRROM box-art. 
Rumanian Fighter Colours 1941 - 1945, Teodor Liviu Morosanu, Dan Alexandru Melinte, MMP books
The I.A.R 80 & I.A.R. 81, Airframe, Systems & Equipment, Radu Brinzan, SAM Publications
Vânâtor Romanian Hunter, The I.A.R.80 and I.A.R.81 in ultimate detail, Radu Brinzan, Stratus / MMP books (includes a lot of technical drawings, description of equipment, weaponry ... in ultimate detail)