FR005 Savoia SM 79 JRS B1
History:
The Savoia Marchetti SM 79 was one of the most outstanding successes of the italian aircraft manufacturing industry in the thirties and forties. Winner of the Istres-Damascus-Paris air race on August 1937, this smart three-engined plane was used by the Regia Aeronautica as a bomber and torpedo bomber.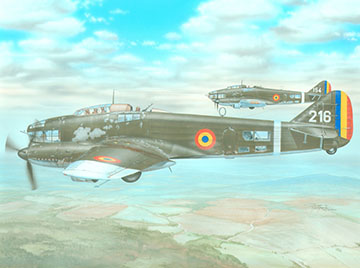 In 1937, Rumania bought 24 twin-engined SM 79 fitted with two IAR 14K radial engine developing 870 hp (licence built Gnome Rhone 14K). On this version, called SM 79 B,the fuselage was widely modified,the central engine being replaced by a glozed nose section, the cockpit moved forward, narrowed, and raised, the seats put in tandeù arrangement. The following versions SM 79 JIS B (8 units) and SM 79 JRS B (36 units)  on which were fitted the in-line  water-cooled Junkers Jumo 211D delivering 1200 HP were assembled respectively by Savoia Marchetti in Italy and I.A.R. in Brasov, Rumania (JRS), under licence. The fuselage of these versions was again modified, giving better aerodynamics.
The last SM 79 twin-engined version was assembled by I.A.R, starting on beginning of 1943. She was coded JRS 79 B1, fitted with two in-line Junkers Jumo 211 F delivering 1380 HP and she retained the JRS B shortened nose. The 36 planes produced were code with tactical numbers ranging from 201 to 236. They were used used by ARR against Soviet Union and, after the 23 re  ofAugust 1944 coup, against Germany and her allies. The Michael 's cross was then replaced by the traditional blue-yellow-red cockade
Specifications (JRS B1): crew of five,  middle bomber and reconnaissance. Engines: 2 x 1380 HP Junkers Jumo 211 F. Wing span 21,20 m, lenght: 16,82 m, height 4,10 m. Maximum weight 11 785 kg, maximum speed at 6000 m : 436 km/h, ceiling 9500 m, range 1750 km. Weapons: bombload 1 400 kg. Defensive weapons: one 20 mm Ikaria gun, initially five 7,92 Rheinmetall machine guns (the firepower was improved later by adding machine guns and replacing theù by 13,2 mm Mauser)
References:
Les bombardiers Savoia en Roumanie (M. Robanescu, Edition TMA & FRROM)
Rumanian Air Force, the prime decade (Denes Bernad, Squadron Signal Publications)
L'Aviation Roumaine pendant la seconde guerre mondiale (M. Robanescu, TL Morosanu, Ed TMA)
Improvements:
the little hump on top of the Jumo 211 F (which is one of the JRS B1 characteristics, see the box art) has been omitted in the kit. For better accuracy, you should create it with plasticard.   
We got additional informations on camouflage and markings after the decals printing. The "White 154" is NOT a JRS B1 (JRS B1 tactical numbers ranged from 201 to 236).
As we have for IAR 81c (please see our kit, reference FR8001), the paint used for camouflage comes from german stock, olive green topside and  light blue grey downside, you should get this information in a book on Romanian Bomber Colours during WWII (in preparation). So you should replace the green and brown topside and light blue downside given for 215 by olive green / light blue grey, ALL SM 79 JRS B1 were painted by factory in this scheme (with usual yellow markings for eastern front). After the coup, on August 1944, the 23 rd and resume of fight on Allied side, roundels were re-used and yellow markings were over-painted (please  have a look at 216 below)